Search Engine Optimization FAQ's
If you are thinking of handing over SEO responsibility to a professional SEO firm such as vistas to optimize your web site for search engines, our SEO FAQ's will clarify many of your questions.
Please write to us if you have a question about search engine optimization that is not answered here and we will provide answers in our next update.
1. What is the best position to occupy on search engines?
# 1 is the best position; keywords will have to work its way up steadily towards it. Some 42% searchers choose the first organic listing as compared to about 12% selecting number two. The traffic for # 1 is about four times that of #2 and 10 times the traffic of #5 ranking. The higher you rank on the results the more traffic you experience. There are several ways to achieve this position.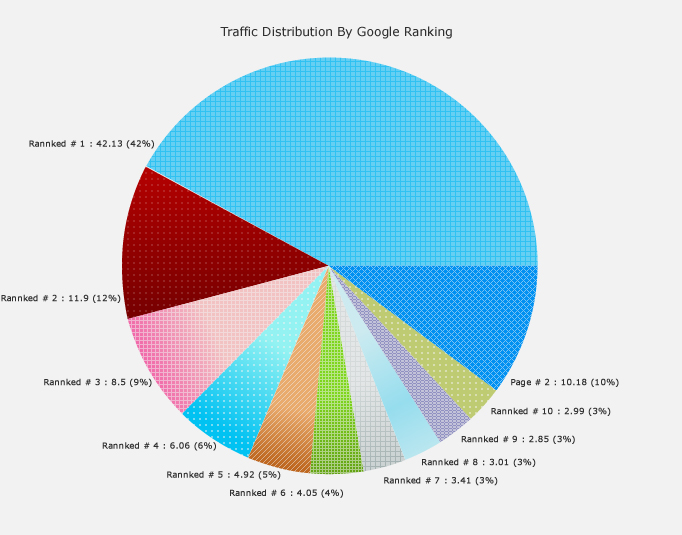 2. How long will it take for SEO efforts to take effect?
You will see visible improvements in 30-45 days and firm positioning in three months; generally keywords stabilize in about six months and achieve its best position in around 12 months. Competitiveness of keywords in the online space is the main component for achieving rankings.
3. Do you guarantee top ranks in any engine?
Google is undoubtedly the preferred search engine with nearly 80% of the market share and the ideal position is the first page to attract 90% of all the traffic. We guarantee an increase in your rankings and an increase in your organic traffic. You will receive monthly rankings report in which you can verify this. Various strategies are put in place to achieve top rankings for more competitive keywords. Additionally when closely guarded secret search engine algorithms change rules - as it happens from time to time, understanding and working around the new rules might delay results.
4. Is SEO the only source of traffic to a website?
Far from it, search engine results are only one part of a large and complex equation. There are numerous other ways to drive traffic to a website, many of them free, some paid, some highly effective and others not so effective. At SEO Consultant London UK, our SEO consultant will work with you one-on-one. We will prepare a list of recommendations after a thorough analysis of the website is undertaken. This will combine a mix of search engine positioning and strategies to generate traffic to the website to match your niche and industry profile.
5. Can we learn and perform our own SEO?
SEO involves skilled practitioners with several years of experience. An entire team of programmers, writers and marketing personnel gets to work on each assignment. Considering this is a process that takes at least a year to accomplish; leaving it to professionals who make a living from SEO will be the right decision.
6. How do search engines look at SEO practitioners?
Google provides a number of SEO tools and offers good advice. SEO providers work with Google actively and purchase PPC ads for clients. Performing SEO on a website for prominence in rankings is a legitimate method of marketing.